Fédération Française de Char à Voile
Découverte et initiation à l'activité Char à Voile sur les pistes de l'ancienne base aérienne 217.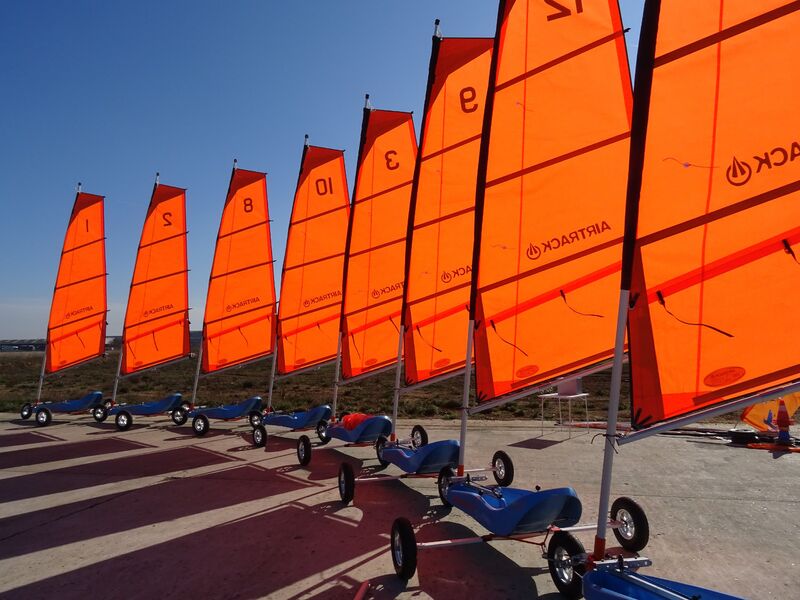 Description
Des initiations au roulage en char à voile, encadrés, sur des circuits balisés, sécurisés et adaptés, sont mis en place sur les pistes par des moniteurs diplômés d'état.
Le roulage commence après quelques minutes d'explications et de préparation du matériel.
Le moniteur fait évoluer le parcours en fonction des progrès réalisés par les pilotes, de leurs souhaits, de la météo, de la configuration du terrain, etc.
Régulièrement pendant la séance, le moniteur intervient collectivement et individuellement pour faire progresser les pratiquants.
Parfois, lorsque la météo et les compétences des pratiquants le permettent, des promenades en char à voile sur le site, peuvent être organisées.
Les participants ont à leur disposition un char à voile monoplace pour deux (ou un char chacun selon la formule choisie) et un casque conforme aux exigences règlementaires.
Les chars à voiles se règlent à la taille du pilote Tenue vestimentaire recommandée : chaussures fermées obligatoires, vêtements de plein air adaptés à la météo du jour, lunettes (de soleil ou de bricolage par exemple).
Le lieu précis de rendez vous est communiqué par mail lors de la confirmation d'inscription.
Informations pratiques
Ouvertures
From 15/02 to 04/11 between 10 am and 6 pm.
Closed Monday and Tuesday.
Tarifs
A partir de 28 euros.
Gratuité accompagnateur dans la limite d'un accompagnateur pour 8 enfants.
[av_toggle_container initial='0' mode='accordion' styling='av-elegant-toggle' background_gradient_current_direction='vertical' ][av_toggle title='Ouvertures' tags='']From 15/02 to 04/11 between 10 am and 6 pm. Closed Monday and Tuesday.[/av_toggle][av_toggle title='Tarifs' tags='']A partir de 28 euros. Gratuité accompagnateur dans la limite d'un accompagnateur pour 8 enfants.[/av_toggle][av_toggle title='Langues' tags='']
French
[/av_toggle][av_toggle title='Services' tags='']
Equipment hire
[/av_toggle][/av_toggle_container]